Leider zeigt sich in diesen Tagen wieder eine starke Zunahme des Antisemitismus. In Zusammenhang mit dem Nahostkonflikt werden vor allem in den westeuropäischen Medien fast täglich einseitig dem Staate Israel Vorwürfe gemacht. Dem Anschein nach sind viele Menschen auf einem Auge blind und nicht fähig zwischen Gutem und Bösem zu unterscheiden. Sie bezeichnen Terroristen kritiklos als Freiheitskämpfer. Sie entschuldigen mörderische Attentate und werfen ausgerechnet dem Opfer vor, daß es sich dagegen zu verteidigen versucht. Sie rufen auf zur Befreiung der Mörder von unschuldigen jüdischen Kindern, Frauen und Männern.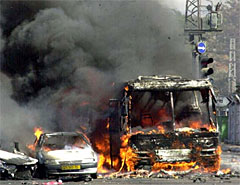 Kritik darf sein, aber Schluss mit lügnerischen Verzerrungen. Es gibt keine moralische Aequivalenz zwischen Soldaten die unschuldige Menschen schützen und Selbstmördern, die diese ermorden und verstümmeln! Wir sind der Meinung, dass der Staat Israel nicht nur das Recht, sondern auch die Pflicht hat, seine Bürger vor den seit Jahren anhaltenden Greueltaten zu schützen. Wir beten für ein Ende der Terror und Gewalt im Nahost und für einen wirklichen und dauerhaften Frieden in der Region.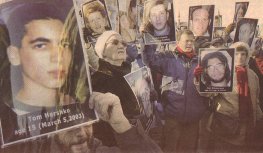 WHY IS ALL THIS NECESSARY?
Read how an Arab homicide high explosive works:
The force of the blast is determined by the quantity of the explosive. An average bomb — the kind strapped around a suicide terrorist's waist, covered by a shirt — would likely detonate at a rate of about 28,000 feet per second — or about 22 times faster than a 9 mm bullet leaving the muzzle of a handgun. That means the surrounding air pressure — normally 15 pounds per square inch — would spike to 2,200 pounds per square inch. Such heat and pressure will melt iron. A person sitting nearby would feel, momentarily, a shock wave slamming into his or her body with an 'overpressure' of 300,000 pounds. Such a blast would crush the chest, rupture liver, spleen, heart and lungs, melt eyes, pull organs away from surrounding tissue, separate hands from arms and feet from legs. Bodies would fly through the air or be impaled on the jagged edges of crumpled metal and broken glass.

The media outlets describing the work of the suicide bombers invariably fall far short of describing the actual result. The children killed are often far more fortunate than those described as "wounded." The wounded are left to suffer in hideous agony, their bodies and organs riddled with the nails and screws and other sharp pieces of steel wrapped around the Semtex explosive.

This is not the result of gruesome accident, awful as that would be, but the calculated evil of men who have recruited children to kill other children.